Beaches to visit in Corfu
Corfu has an embarrassment of riches when it comes to beaches. There are myriad options all around the island, from long, off-the-beaten-track expanses of fine sand, to small picturesque pebbly bays and idyllic coves. Many are child-friendly with gently sloping beaches with shallow waters, others are paradises for watersports enthusiasts. Many have little jetties, so you can arrive by boat if that's your preferred mode of travel, and the vast majority have a good selection of seafront tavernas and bars for when it's time to eat or toast the sunset with an aperitif. Here are some of our favourites, starting in the northwest and heading clockwise around the island:
Agios Georgios
Where: the northernmost of the two Agios Georgios, on the west coast, just south of Agios Stephanos.
Description: a sweeping sand and shingle bay with clean, refreshing waters. It never gets too busy, even in the high season, and is popular with families and windsurfers. There are a few tavernas and organised beach facilities.
Agios Stephanos
Where: on the northwest coast looking out towards Mathraki island.
Description: a long, wide sandy beach that slopes gently into the sea. It's a bit off the beaten track and so a great option if you want to avoid the crowds in Sidari. It has a relaxed, unpretentious feel and a few tavernas near the small harbour.
Longás (aka Perouládes)
Where: on the northwest tip of Corfu, just a few km west of Sidari.
Description: a beautiful spot with a lovely small sandy beach flanked by cliffs, which provide shade in the morning. It is particularly popular in the late afternoon when people come to watch the sunset into the sea. There is a taverna overlooking the beach, but no sun loungers or other facilities.
Acharavi
Where: the northern tip of Corfu.
Description: an 8km stretch of sandy beach that is great for anyone staying near Kassiopi. The waters are shallow and child-friendly and there are plenty of watersports activities, facilities, and beachfront tavernas to choose from.
Agios Spiridon
Where: on the northernmost tip of Corfu.
Description: two bays offering shallow waters and soft sand for young children, sun loungers and umbrellas for hire and excellent swimming in the delightful turquoise sea. There are a few cafés and tavernas for when you get peckish, a children's playground, and a good walk to be had around the small inland lake.
Kalamaki
Where: on the north coast about 5km northwest of Kassiopi
Description: a lovely sandy beach that shelves gently into shallow waters. There are a couple of seafront tavernas and bars and you can hire sun loungers and umbrellas. There's also a long jetty if you come by boat.
Avlaki
Where: just a couple of km east of Kassiopi on the north coast.
Description: a gorgeous pebbly bay with crystal clear waters offering some of the best swimming anywhere on Corfu. It is child-friendly and relatively unfrequented by tourists and peaceful (though it is popular with the locals at the weekends). There are a couple of very good tavernas and it is possible to hire sun loungers and umbrellas right on the beach.
Kerasia
Where: on the northeast coast, about 10mins drive south from Kassiopi.
Description: another delightful, generally quiet pebbly beach in a beautiful natural setting flanked by trees and a few very exclusive villas (such as that owned by the Rothschilds). There is a very good taverna, a café and plenty of facilities (showers, sun loungers, umbrellas, etc.).
Nissaki
Where: on the south coast of the northeast peninsula.
Description: a small shingle beach with transparent waters in the unspoiled, pretty village of Nissaki. There are two tavernas on the water and a scuba diving school.
Barbati
Where: just 2.5km south of Nissaki on the east coast.
Description: a long stretch of pebble/shingle beach, lapped by gorgeous transparent waters that make swimming a true pleasure. In recent years it has become quite chic and, apart from offering lots of facilities (sun loungers, umbrellas, watersports, etc.) it also has several good seafront tavernas and stylish cocktail bars for an evening aperitif. It gets quite busy with locals and Greek holidaymakers in high season.
Halikounas
Where: in the southwest of Corfu, by Lake Korisson.
Description: a long spit of sand dunes and beach separating the protected reserve of Lake Korisson from the sea. It is totally unspoiled and attracts sunbathers who like things au naturel and birdwatchers. There are no facilities.
Glyfada
Where: halfway up the west coast, almost due west of Corfu Town.
Description: wonderful scenery and a great sandy beach with plenty of facilities, bars and organised lidos. It is very popular with Greek tourists, who enjoy watching and participating in the beach volleyball tournaments there. It's best in the late afternoon and early evening when, glass in hand, you can watch the sun melt into the western sea.
Paradise Beach
Paradise beach lives up to its name, A deserted paradise only accessible from the sea, located slightly south of the beach Liniodoros. It is the second in size beach of the area and It looks so much the same as the neighboring beach of Stelari.
Paradise is a pebble beach like the most beaches in this remote area. There are high cliffs on the back that separate it from the inland and give a sense of isolation and grandeur.
Stelari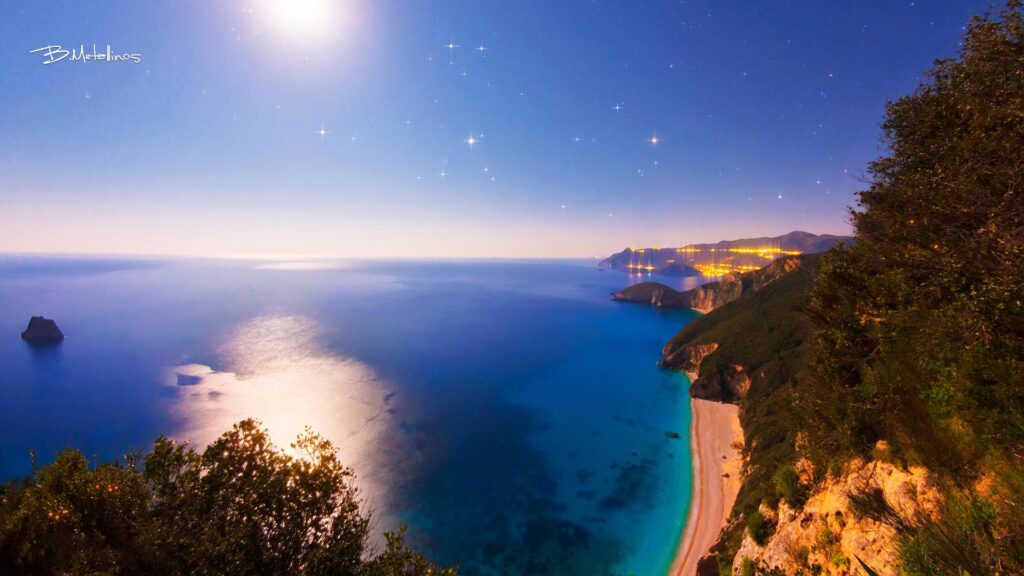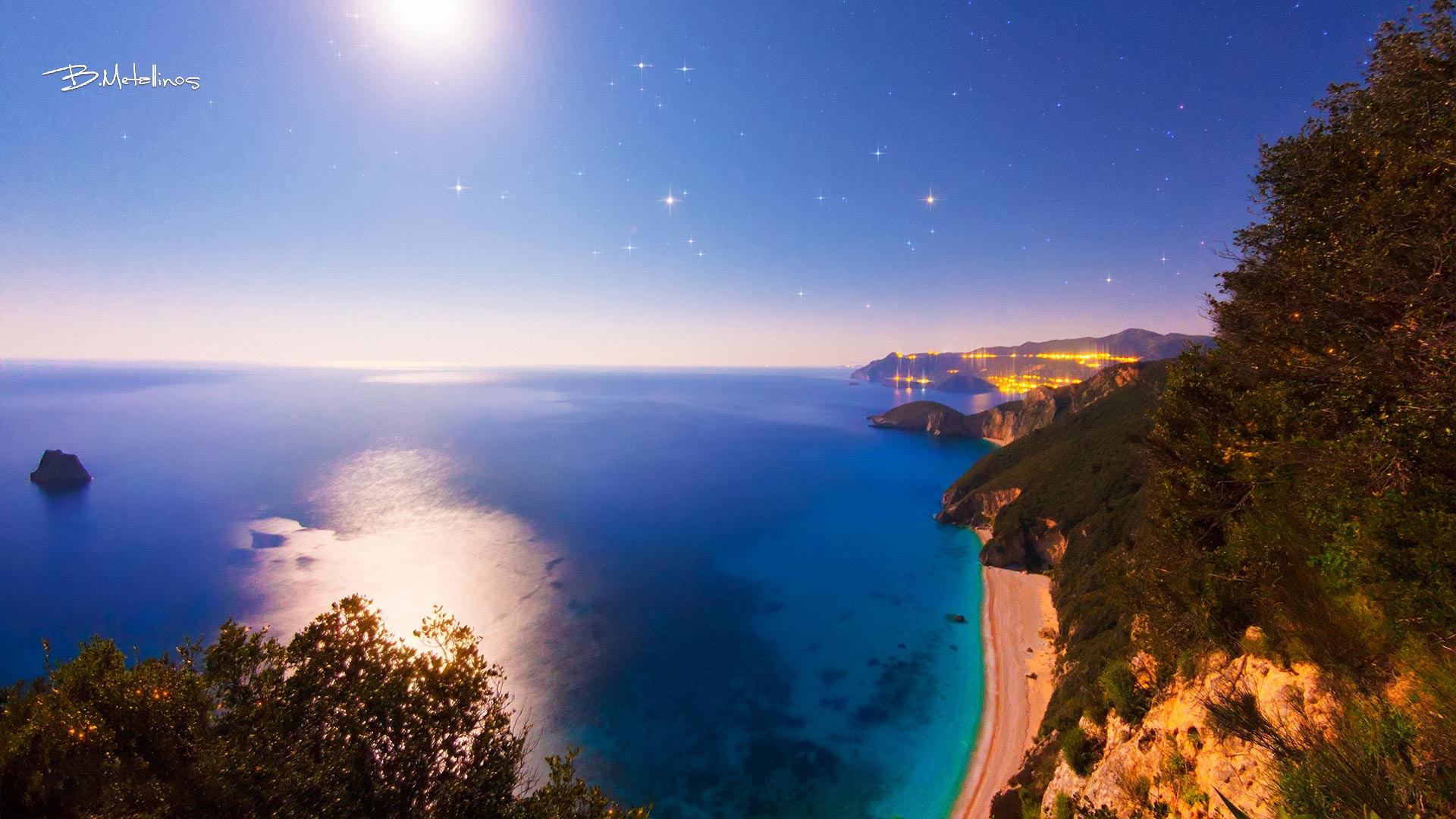 The largest beach of the area, yet another pebble with a little sand paradise.
During the night the sand is illuminated only by starlight and slightly by the distant lights of Paleokastritsa.
The stars gave their Italian name, Stelari by the word Stela which is the Star in Italian.
It has all the features of previous beaches and more, it is idyllic, beautiful and moreover gives a sense of grandeur due to the background scenery with the towering rocks.
Accessible only from the sea.
Chomi or Chomoi
Chomi is a pebble beach just south of Stelari and looks the same in everything, better say that it is the southern part of Stelari.
Giali beach
Another secluded, idyllic beach near Ermones and the village of Giannades, accessible only by sea.
Limni beach
Yet another beautiful and secluded beach below the village of Liapades, accessible mainly by sea and by land for good climbers.
It has the same morphology as the double beach of Porto Timoni in northwestern Corfu, a round piece of the earth joined to the island by a small strip, this strip is the beach.
Liapades beach
Liapades beach is also called Gefyra, a beach with turquoise waters. It lays on a small bay east of Paleokastritsa, just a short two kilometers distance from it.
Crystal clear waters on a pebble background in stunning scenery.
It is the beach of Liapades mountainous village located about 400 meters to the east and slightly south at the interior of the island.